To see your application status in Glints, you can do in the following way:
Make sure that you already login into your Glints account
Click the dropdown sign in beside the logo profile in the home page

After you click the dropdown sign, you will the options and click "My Application"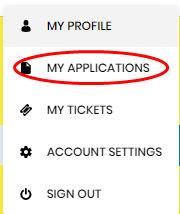 After you click "My Application" you will be directed to the next page and the first thing you see is Application Target which indicate how much you've applied the jobs a week.

Then you can scroll down and you will the application you have applied with the status application. Or you can click the each stage of the status application that you want to see at the left side of the page. Also, you can use the "Sort By" feature to sort the application from the Most Recent or from the Oldest one.